Seattle Department of Transportation
Project Management Dashboard
The Seattle Department of Transportation, or SDOT, is responsible for all traffic movement within the City of Seattle. To reach their goals, SDOT needs to plan and execute numerous projects across the city throughout the year. Keeping track of their multitude of projects is a daunting challenge, especially when the project monitoring system doesn't work to the team's satisfaction. We were able to provide SDOT with a unified, highly functional solution to support their preferred processes.
Challenge
A project portal for SDOT managers to easily and quickly locate the projects relevant to them, assess progress, and keep project data up to date in an efficient and structured manner
Solution
A unique UI with integrated dashboard capabilities that pulls in necessary data from multiple sources and automatically keeps information up to date, so each project shows all the pertinent progress information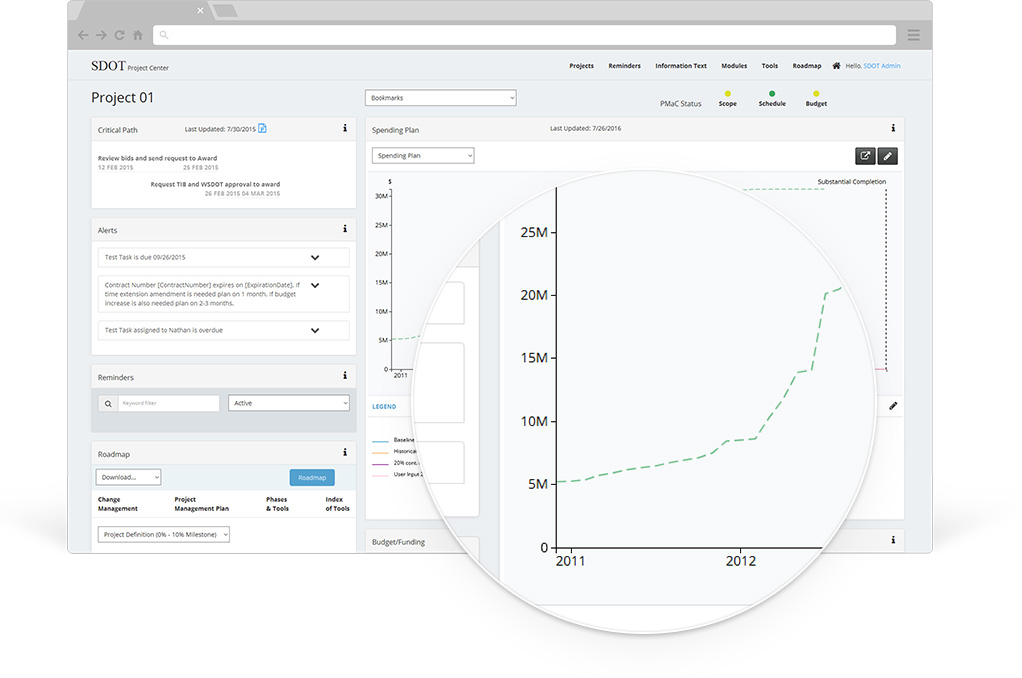 How We Did It
A successful outcome was only possible by coordinating with SDOT's project management and IT teams. We worked with IT to obtain data from existing financial tracking systems using an ETL process. We also wrote a custom ETL process to gain additional project details from another internal system. Together, the two independent data feeds supply sufficient data for SDOT project tracking.
More than a Dashboard
Advanced project monitoring
Our solution included capabilities that went far beyond a typical dashboard. Numerous features were included to assist with project tracking, spending monitors, and process controls. Modules allowed managers to set alerts, create tasks, and note when actions are required on a project. This feature-rich approach turned project monitoring into proactive project execution for the SDOT team.
Technology Adoption
Creating eco-system specific solutions
Great solutions can't just stand alone and be expected to work without the help of a strong technical team to guide them. This project was no exception. Palador worked hard to ensure the project fit in SDOT's technology landscape and that SDOT was well equipped to support the application going forward. Our technical staff worked to meet SDOT requirements from the start and all the way through the project hand-off.
Start a Project
In need of a dashboard solution?