As an elite engineering, surveying and planning company in the Pacific Northwest, LDC had been sending clients and recruits to their current website since 2010. The site was built in static html and only updatable by their tech team. It no longer met the high standards of the company, and was detracting from the firm's reputation for quality in the region and across their industry among clients and prospective employees.
Challenge
LDC needed an easy-to-manage site and a modernized brand that conveyed the high quality of their work and reflected the culture of the company for clients and recruits.
Solution
A site redesign based on a comprehensive user-focused design process, moving LDC's site from a backend managed in HTML to an easy-to-manage Wordpress CMS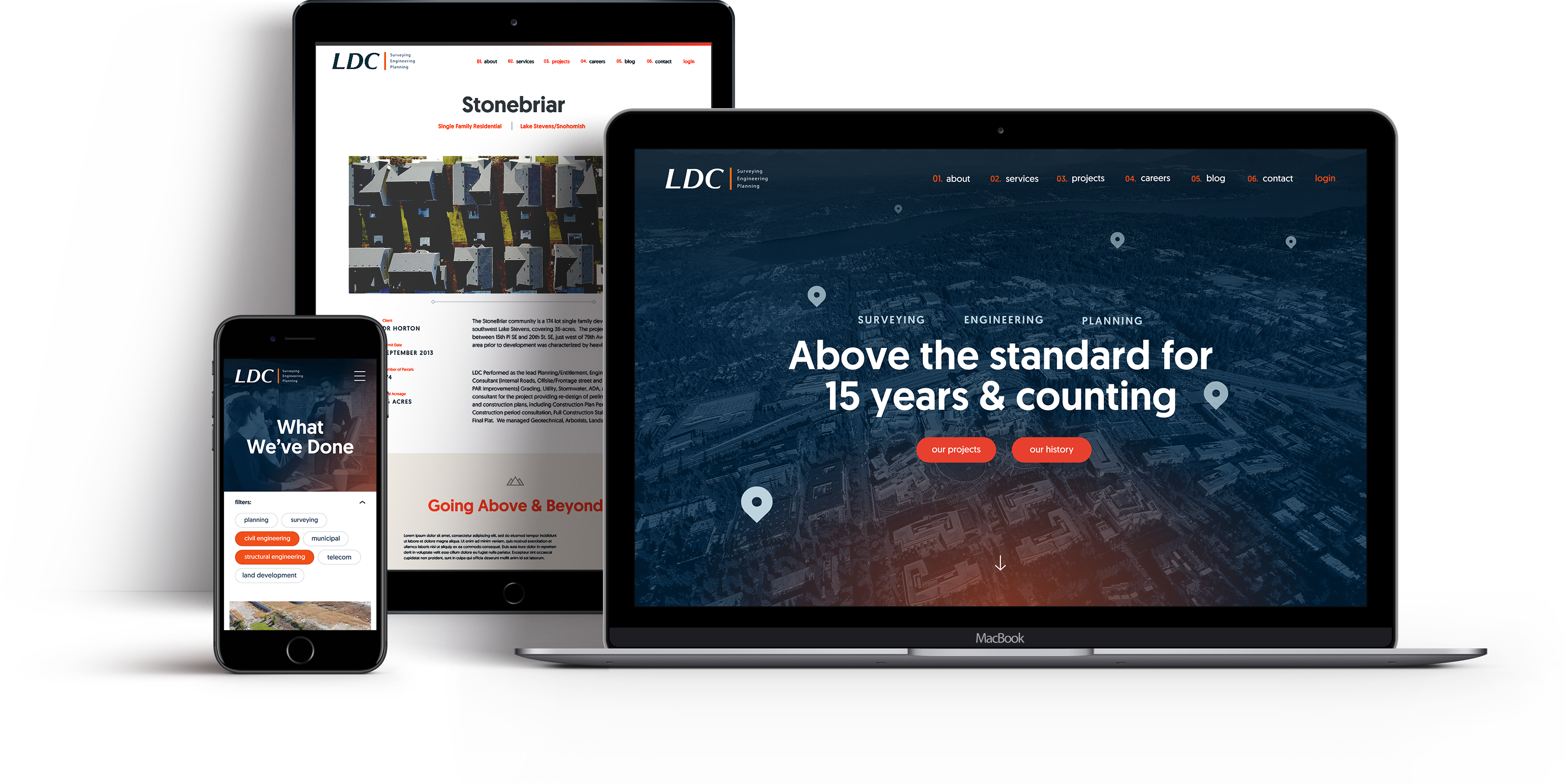 We deal with a lot of consultants and vendors, and what was great about working with Palador was their professionalism. We had a scope, timeline, deliverables and on top of that, it was all managed by a project manager. Their team really understood our business and managed to work with a team of six or more on our side while making everyone happy and feel like they were heard.
Brian Kelleher, Website Project Manager & Lead Recruiter @LDC
How We Did It
Our team of designers, front end web developers and project management worked closely with key stakeholders at LDC to define objectives and deliver a solution with a progressive design approach based on user personas, addressing concerns throughout the process.
Brand Refresh
Perfecting a brand to meet high standards
LDC was open to completely changing their brand's look & feel, aiming to convey a high-quality status, professional but amicable demeanor, and trustworthy discipline. We modified their original color direction, using a split complementary color palette using orange and red as the primary accent colors and a deep navy as the base. Looking for a geometric typeface with humanist qualities, we found Geomanist was the perfect choice to reflect both mathematical precision and friendliness. With additional stylistic treatments, we were able to achieve a formal, structured feel that was also cheerful and confident.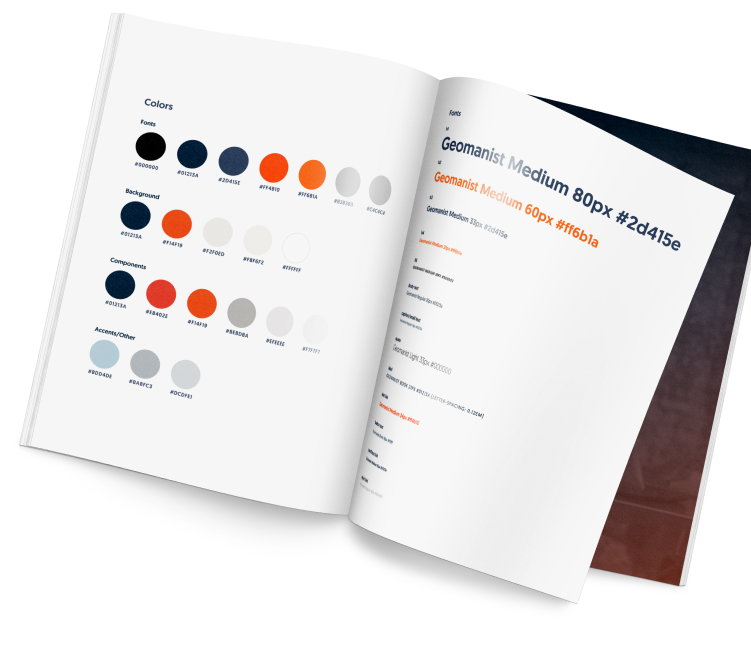 Content Strategy
Restructuring to remove barriers
For any company, a new website presents an opportunity to assess needs and resources for branding, marketing, and content creation. Removing barriers makes updates more likely to happen. We focused on removing as many barriers as possible for LDC, first determining who needed to make changes to the site and therefore needed training, then determining exactly what needed to be changed on a regular basis. We then made the CMS easy to use, intuitive and accessible enough for LDC to make their own updates to the site, removing the need for outside web development.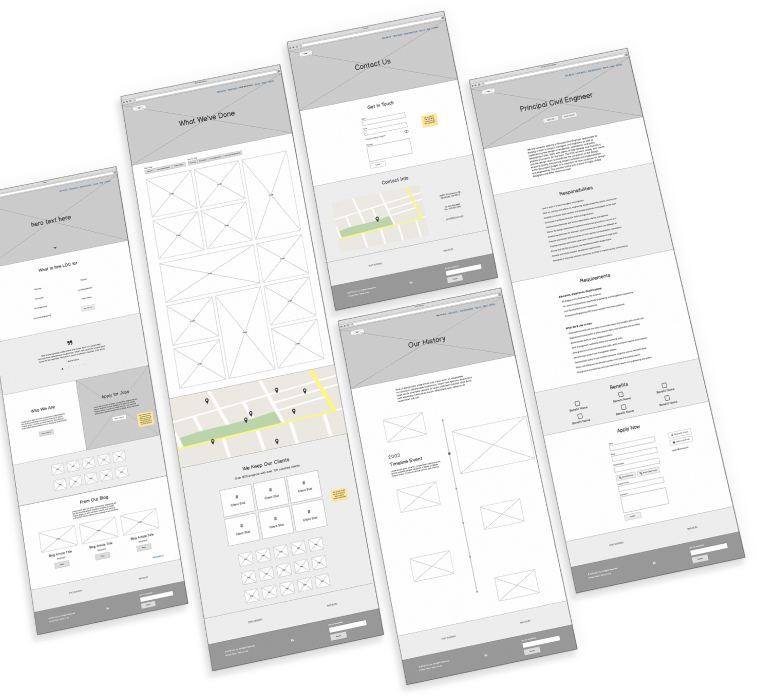 Wow Factor
Setting LDC apart from the competition
LDC operates and thrives in a highly competitive industry. They needed their website to reflect the quality of their work and differentiate them in the eyes of potential clients and recruits. We incorporated beautiful videos and interactive maps that pinpoint over 200 exact locations of LDC work. We created interactive elements that show LDC's work visually while providing a high-quality user experience of LDC through their site. The same kind of experience LDC's clients expect from them offline.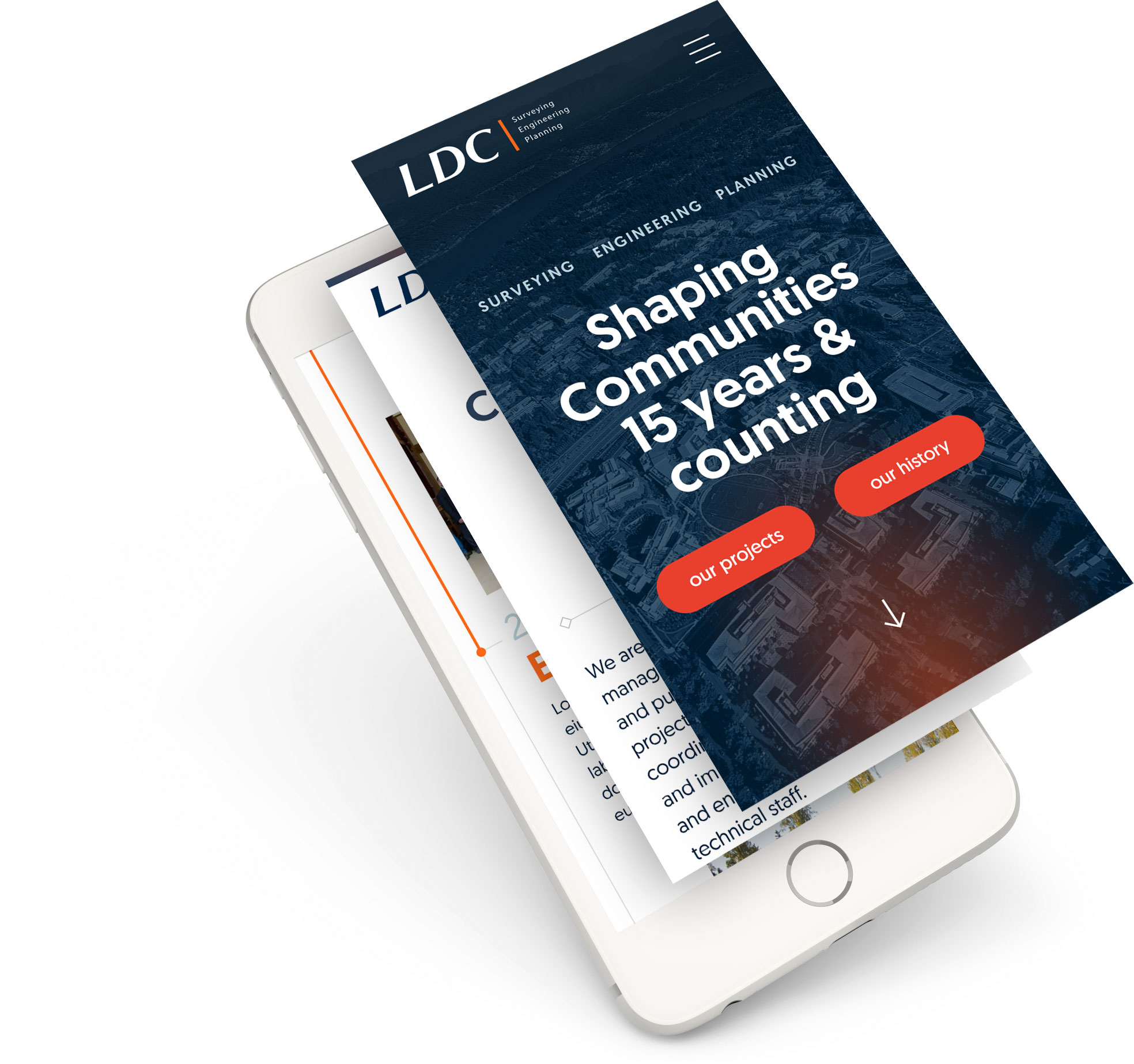 Outcome
I can send candidates to the site and 10 times out of 10, whether they end up working here or not, they tell us it looks from our site like we're doing very cool work. We're just looked at differently and the culture of the company really comes through.
Brian Kelleher, Website Project Manager & Lead Recruiter @LDC
The result of the project was a client and recruit friendly website. LDC's views on Glassdoor increased 118% in the first six months. Visits to the site increased 200% over their previous site. The site provides a consistent brand and design platform that LDC has been able to expand beyond the site.